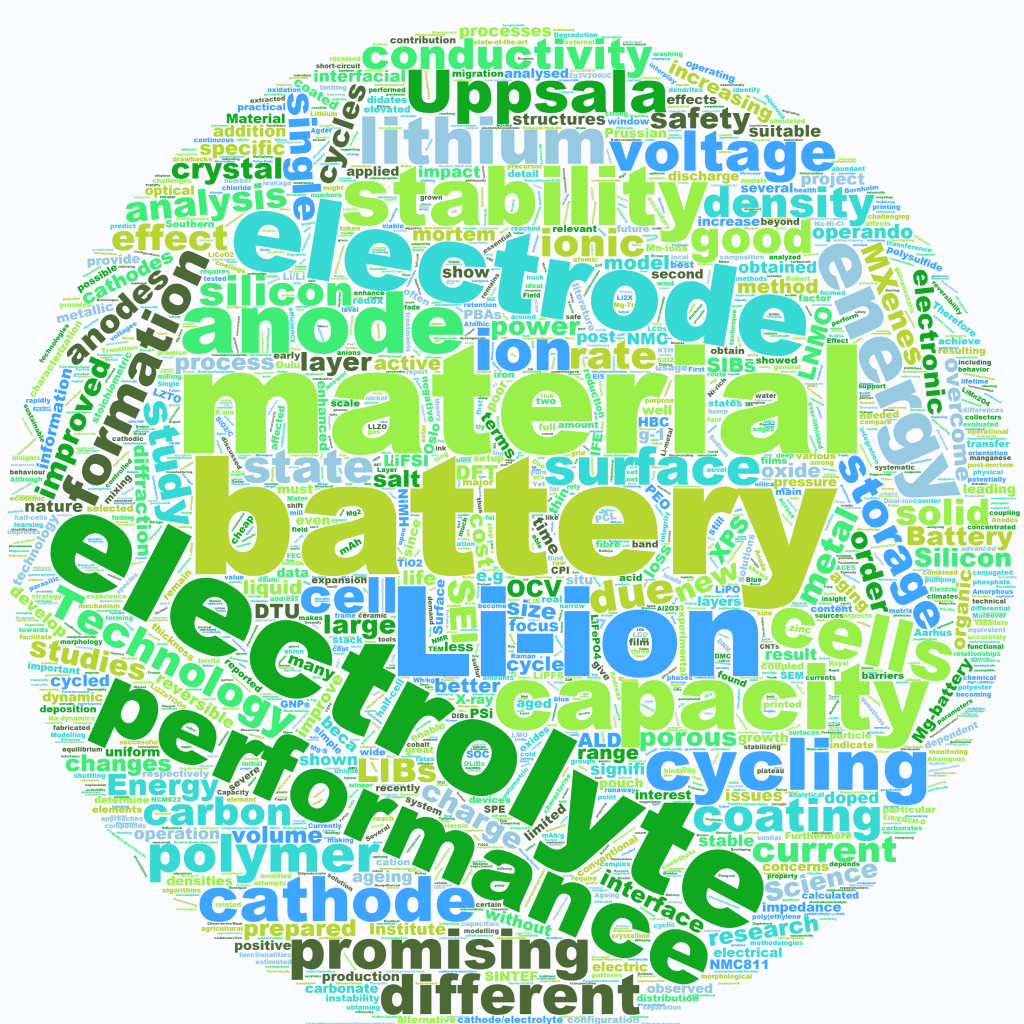 This is a collection of posters at Nordbatt2019. The titles are links that will guide you to the abstract. We have also collected a the complete set of abstracts. The word cloud to the right is generated based on all poster abstracts (high resolution image for download) at wordclouds.com.
This year we will have two poster prizes. The Best Poster-award winner is selected by members of the scientific committee and the Crowd Favorite-award winner is selected by all conference participants.
Info to poster presenters: The recommended poster format is A0 (84.1 cm x 118.9 cm) in portrait orientation. It is also possible to fit A0 in landscape orientation to the poster boards (130 cm x 160 cm).
1
Rapid cycling of Li-ion cells for cold climates
Alexander Smith, Royal Institute of Technology, KTH
2
Amorphous iron phosphate thin films in Li-ion batteries
Anders Brennhagen, University of Oslo
3
The ACES (Across Continents Electric Vehicle Services) project
Andreas Thingvad, DTU Elektro, Technical University of Denmark
4
A new operando cell for neutron diffraction on Li-ion battery materials
Andreas Østergaar Drejer, University of Southern Denmark
5
Enabling All-Carbon Dual-ion Batteries through Highly Concentrated Electrolytes
Antonia Kotronia, Uppsala University
6
Autonomous optimization of second use battery storage systems
Bernhard Fäßler, University of Agder
7
The structural and electronic properties of anti-fluorite Li2X (X = S and Te) compounds
Brahim Bahloul, Ecole Normale Supérieure de Bou-Saada
8
Disordered MnOx Li-ion Cathode Through One Step Synthesis
Christian Lund Jakobsen, University of Southern Denmark
9
The formation of electrode-electrolyte interphases in polyester-based solid polymer electrolytes for solid-state LIBs
Christofer Sångeland, Uppsala University
10
Performance of Si anodes in ionic liquid electrolytes with added carbonates
Daniel Tevik Rogstad, Norwegian University of Science and Technology
11
Surface coated LiNi0.5Mn1.5O4 as a high-voltage cathode material for Li-ion batteries
Elise Ramleth Østli, Norwegian University of Science and Technology
12
Ageing and safety aspects of commercial marine Li-ion batteries at low temperatures
Embla Tharaldsen Bø, Institute for Energy Technology, IFE
13
Na-dynamics in NZTO, a possible solid-state electrolyte
Frida Sveen Hempel, University of Oslo and SINTEF
14
Investigating the Mg ion Intercalation Properties of MXenes
Frode Håskjold Fagerli, Norwegian University of Science and Technology
15
Garnet-Polyester Composite Electrolyte for Solid-State Li-ion Batteries
Funeka Nkosi, Uppsala University
16
Capacity fade mechanisms in LiNi0.5Mn1.5O4 based cells
Girish Salian, Uppsala University
17
High-Performance Single Crystal Ni-rich LiNi0.8Mn0.1Co0.1O2 cathode materials Enabled by an Ultrathin Surface Coating
Haidong Liu, Uppsala University
18
Make Batteries Safe Again
Halvor Høen Hval, University of Oslo
19
Degradation Phenomena in Silicon-Carbon Composite Anodes from Industrial Battery Grade Silicon
Hanne Flåten Andersen, Institute for Energy Technology, IFE
20
LiNi0.8Mn0.1Co0.1O2 synthesised through an oxalic acid co-precipitation
Harald Norrud Pollen, Norwegian University of Science and Technology
21
MXene-Sulfur Composite Cathode for Magnesium-Sulfur Batteries
Henning Kaland, Norwegian University of Science and Technology
22
Yolk-shell-structured porous zinc vanadate at N-doped carbon anode for lithium energy storage
Huili Cao, Technical University of Denmark
23
Cycling of lithium batteries containing UV-crosslinked polyester-polycarbonate polymer electrolytes
Isabell Johansson, Uppsala University
24
How promising are Mg-batteries compared to Li-ion?
Jacob Hadler-Jacobsen, Norwegian University of Science and Technology
25
Silicon on the Road
Jan Petter Mæhlen, Institute for Energy Technology, IFE
26
Modeling of OCV hysteresis in the NiMH battery system
Jenny Börjesson Axén, Royal Institute of Technology, KTH
27
In-operando fibre optic monitoring of lithium-ion batteries
Jonas Hedman, Uppsala University
28
LiFSI as electrolyte salt for silicon anodes and NMC cathodes
Karina Asheim, Norwegian University of Science and Technology
29
Post mortem analysis of stoichiometric, over-lithiated and doped LiCoO2 electrode materials for Li-ion batteries
Katja Lahtinen, Aalto University
30
Phosphites as precursors in thin film synthesis. Using LiPO as cathode coating in Li-ion batteries
Kristian B. Kvamme, University of Oslo
31
Magnesium borohydride composites as an electrolyte for all-solid-state magnesium batteries
Lasse Skov, Aarhus University
32
Creating Automotive Renewal Project
Lukasz Hupka, Gdansk University of Technology
33
Effect of carbon coating on the electrochemical performance of SiO2-C Anodes for Li-Ion Batteries
Maria Valeria Blanco, Norwegian University of Science and Technology
34
Comparison of single crystal and polycrystalline lithiation for NCM622 cathode materials
Marianna Hietaniemi, University of Oulu
35
Structural Studies of TiO2 Polymorphs as Electrode Materials in Rechargeable Batteries
Martin Aaskov Karlsen, University of Southern Denmark
36
Electronic structure of amorphous poly(ethylene oxide)
Mikael Unge, ABB
37
Atomic-scale Modelling of Organic Electrode Materials
Moyses Araujo, Uppsala University
38
The Effect of Transition Metal Counter Ion on the Super Lithiation of Benzenedipropiolate Anode Material
Muhammad Abdelhamid, Uppsala University
39
Synthesis and performance of Nb-doped Li2ZnTi3O8 as anode material for lithium ion batteries
Naila Firdous, DTU Energy, Technical University of Denmark
40
Operando observations of the early stages of Electrode/Electrolyte Interphase formation in Li-ion battery model systems
Nataliia Mozhzhukhina, Uppsala University
41
Affordable porous silicon composite anode from agricultural residue
Nathiya Kalidas, University of Eastern Finland
42
An operando cell for dynamic X-ray diffraction with controlled stack pressure
Olof Gustafsson, Uppsala University
43
SEI formation in Li-ion batteries studied by EIS/EQCM-D
Paul Kitz, Eidgenössische Technische Hochschule Zürich
44
DFT Modelling for boosting R&D of Magnesium Technology
Piotr Jankowski, DTU Energy, Technical University of Denmark
45
Hemp-Derived Carbon as Bi-Functional Anode Material for Lithium and Sodium Ion Batteries
Prasanna Kadirvelayutham, DTU Energy, Technical University of Denmark
46
Developing Li-ion conducting passivation layers on metallic lithium and their effect on electrochemistry
Pushpaka Samarasingha, Uppsala University
47
An analytical approach to modelling of mass transfer effects in Redox Flow Batteries
René Lorenz, DTU Energy, Technical University of Denmark
48
Optimisation of printed film densification for sodium nickel chloride (Na-Ni-CI) batteries
Robert Mitchell, Center for Process Innovation, CPI
49
Modelling Capacity Fade in Silicon Graphite Composite Electrodes
Shweta Dhillon, Uppsala University
50
Strategies targeting 5V Li-ion batteries
Sidsel Meli Hanetho, SINTEF
51
Prussian Blue Analogues as cathode material in low cost aqueous batteries
Solveig Kjeldgaard, Aarhus University
52
MXenes as anode materials for Li-, Na- and K-ion rechargeable batteries
Tatiana Koriukina, Uppsala University
53
Polycarbonate-ZrO2 nano-composite electrolytes for ambient temperature solid-state batteries
Tian Khoon Lee, Uppsala University
54
Observing the solid-state formation of P2-NaxCo0.7Mn0.3O2
Xenia Hassing-Hansen, Aarhus University
55
Suppression of manganese dissolution from LiMn2O4 cathodes
Yonas Tesfamhret, Uppsala University
56
Operando X-Ray Diffraction of Lithium-Sulfur Batteries with Concurrent Resistance Measurement
Yu-Chuan Chien, Uppsala University